LeapOut is a Certified PhilGeps Platinum Supplier
Since 2019, LeapOut has been a PhilGEPS registered supplier. The digital marketing agency has completed all regulatory requirements mandated by the Republic of the Philippines. 
To become a red member, LeapOut submitted the following requirements:
Company Email Address

Valid Tin Number (registered with BIR)

Securities and Exchange Commission (SEC) Certification
In 2022, LeapOut elevated its PhilGEPS membership to "Platinum" through a rigorous regulatory review and validation process in compliance with The Philippine Government Electronic Procurement System modernization set forth by the Department of Budget and Management.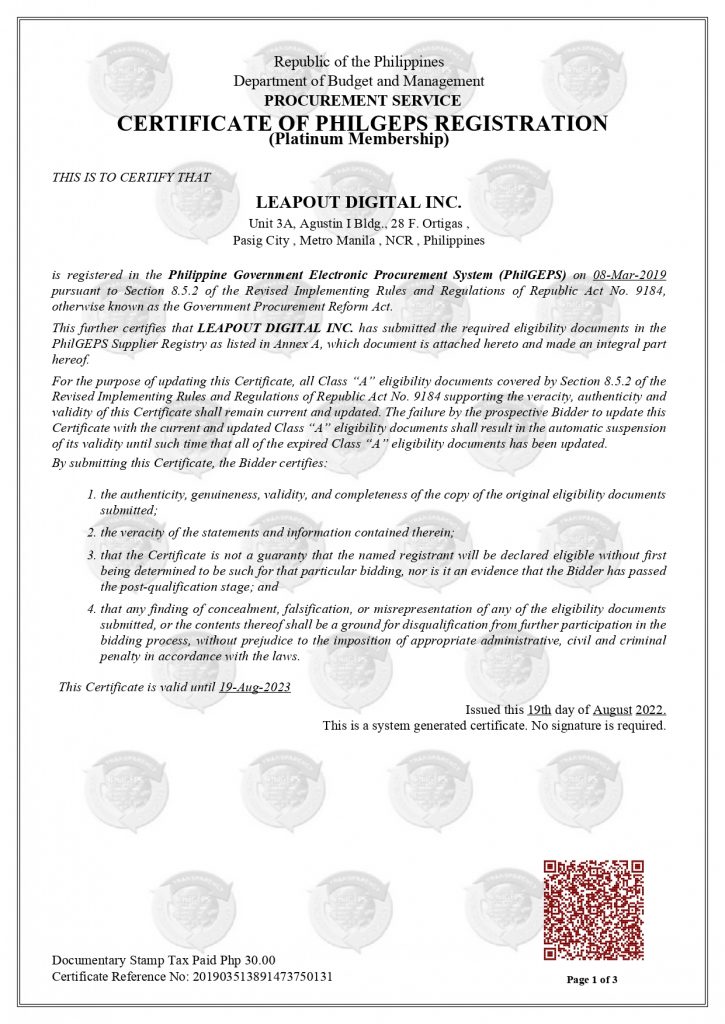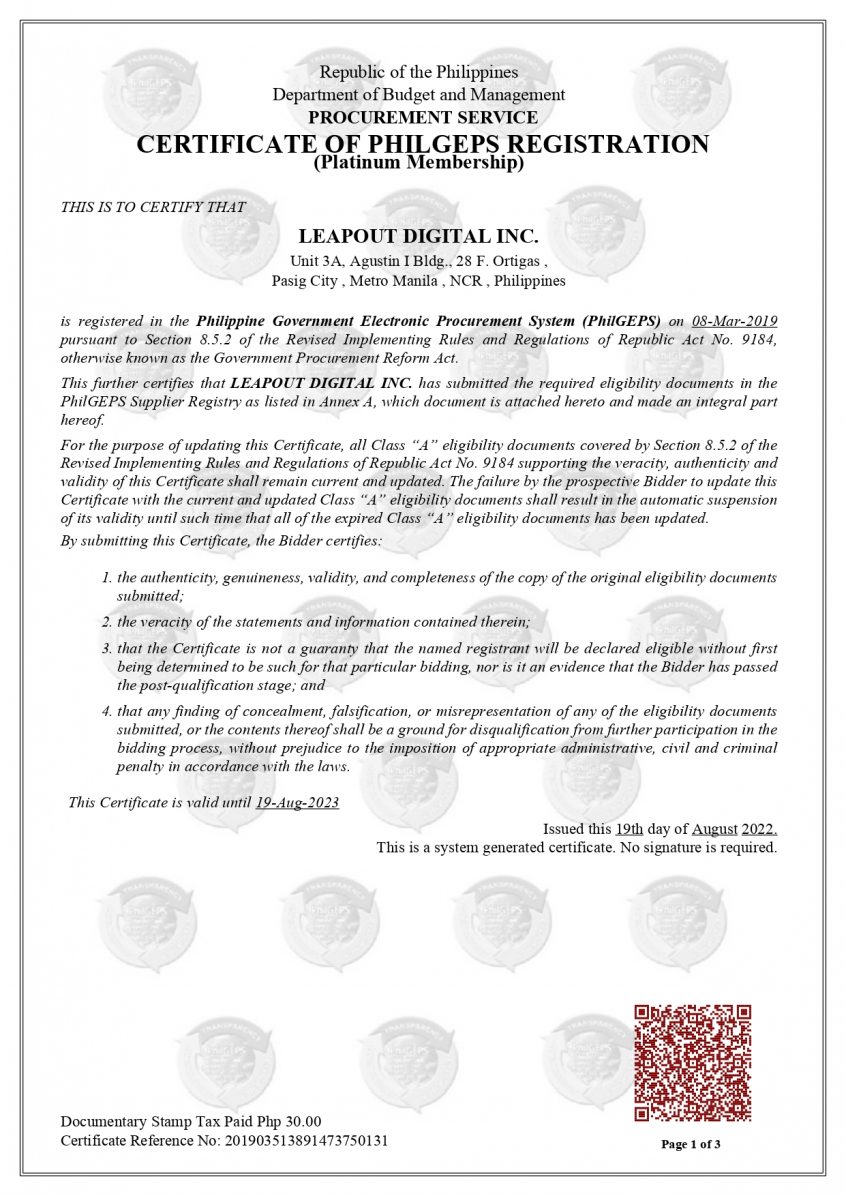 LeapOut has worked with several Philippine government agencies, such as DOST, Philippine Retirement Authority, and Land Registration Authority. The agency has also participated in project biddings for The Department of Tourism and the Bureau of Internal Revenue.  
FAQs
What is PhilGEPS?
PhilGEPS is a centralized electronic portal the Philippine government uses as a public procurement system. It automates and streamlines procurement processes for PhilGEPS registered suppliers and monitors government procurement activities to promote transparency, competitiveness, and accountability.
What is the difference between a Red and a Platinum PhilGEPS Membership?
An evident difference between a PhilGEPS Red Membership and a PhilGEPS Platinum Membership is access to bid directly on public projects. Red members can only view bids and submit their quotations to the Bids and Awards Committee (BAC).
Agencies or companies with a PhilGEPS Platinum Membership receive a PhilGEPS Certificate of Registration, which allows them to place direct biddings on the PhilGEPS system.
The PhilGEPS Red and Platinum memberships have their requirements, but to be a Platinum member, an agency or company must first complete the Red Membership application.
What are the requirements to become a PhilGeps Platinum Member?
To upgrade from Red membership in PhilGEPS to Platinum, these are the following additional requirements:
Audited Financial Statements Stamped by SEC (2021)

Tax Clearance Certificate from Bureau of Internal Revenue (2022)

Mayor's Permit (local business registration) (2022)

SEC Business Registration Certification

PhilGEPS Sworn Statement
What are the advantages of working with a PhilGEPS Platinum-accredited agency or company?
PhilGEPS Platinum-accredited agencies and companies are preferred suppliers. They receive a PhilGEPS Certificate of Registration, a requirement for PhilGEPS direct bidding. 
Moreover, a PhilGEPS Platinum Membership allows an agency or company to propose their services on public projects via the PhilGEPS bidding portal.